If you've started to notice a change in your eye health such as dryness or irritation, it could be down to the seasonal change. Eye care is important throughout the year, however, when the seasons start to change and conditions become colder, your eyes could be affected.
As the temperature suddenly drops and the dark nights draw in, central heating gets switched on and we generally spend more time indoors in the warmth. When we're outside, it's darker for longer and the brightness of street lights and passing cars can take its toll on your eyes. The good news is there are ways you can treat your eyes to make sure they're in the best condition possible this autumn.
We've created an optical illusion to test how good your eyesight really is. Simply find the spooky pumpkin hidden amongst the pumpkin costumes. And remember, keep your eyes peeled for the answer at the end of the post.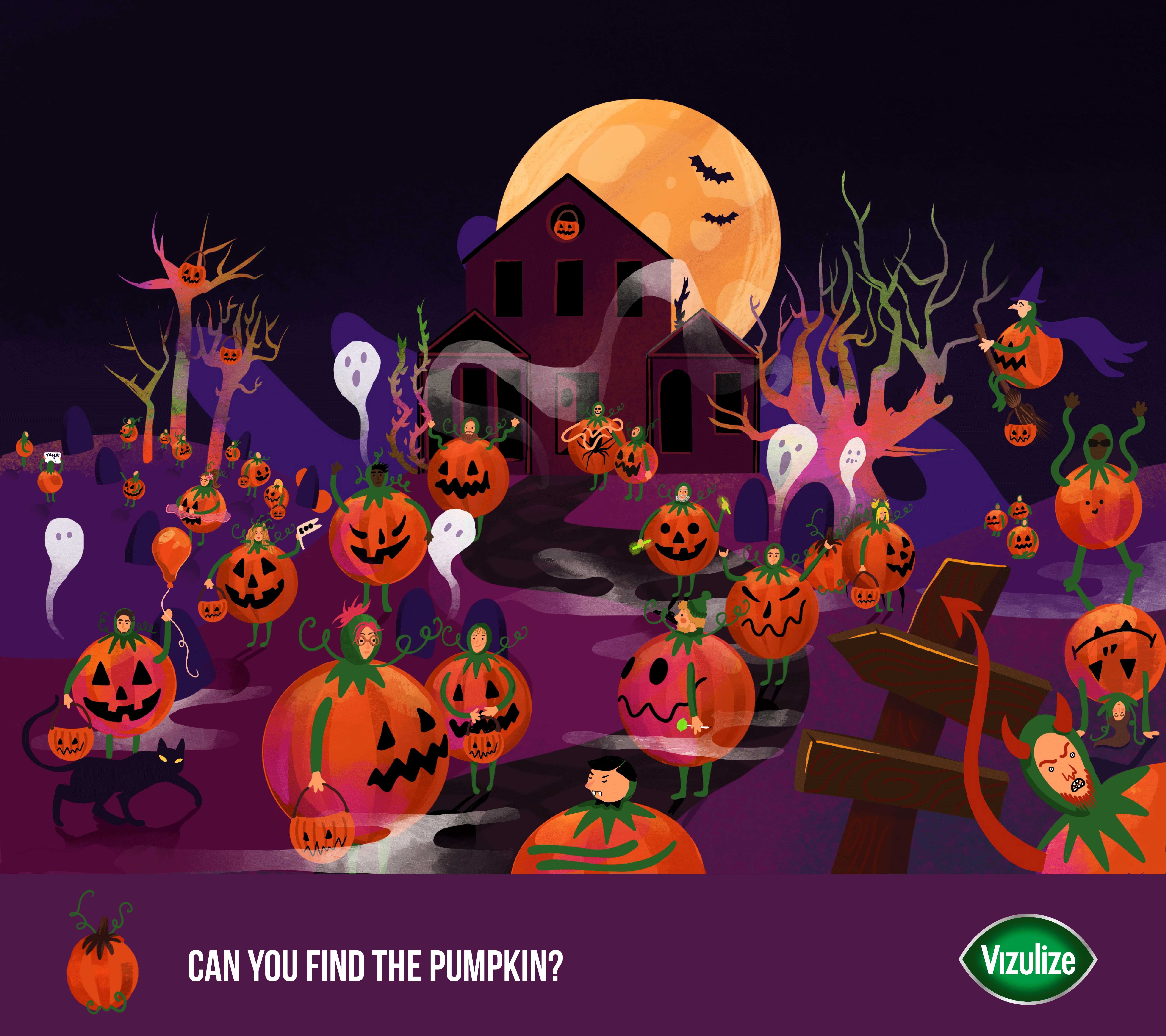 Looking after your eyes this autumn
If you have been experiencing issues with your eyes and think it could be due to the change in season, check out our tips to keep your eyes feeling healthy this autumn.
Dealing with dry eyes
People are prone to dry eyes at this time of year due to the unpredictable weather we experience in the UK. From the inconsistencies and contrast in temperature of regularly moving between being out in the cold and returning into the warmth, to the air indoors being generally drier as a result of central heating, there are a number of  factors that can cause  dry eyes. To relieve symptoms of dryness and to keep your eyes moist, consider using a dry eye mist and ensure you drink plenty of water to keep yourself hydrated.
Irritated eyes
Another common eye problem that occurs during the colder months is irritation which can be caused by a winter allergy. Indeed, irritated eyes can be a result of the increase of dust and dander in your home which usually occurs when you choose to close your home's windows and doors to keep in the heat. There are ways to prevent this by keeping your household well ventilated. If you have pets, it's advised to bathe them once a week and to also try to keep them out of the bedroom.
Protect your eyes
When the weather starts to change and we experience more wind and rain, most of us wouldn't think to take sunglasses out with us. But in diverse weather conditions it's important to remember that the sun can make an appearance and is much lower, making it more intense. This can irritate the eyes so you need to protect them when outside with sunglasses or a brimmed hat. If you wear contact lenses, try to wear glasses more frequently during autumn as contacts can cause dry eyes. Your glasses can also act as a barrier, protecting your eyes from  the wind.
If you are experiencing any problems with your eyes, there are a range of products to choose from to help alleviate the issue. For any persistent eye problems, we recommend speaking to your doctor.
Did you manage to find the hidden pumpkin? Have a look below to see if you got it right!